Once again, it's
Harry Potter
season. It's very much felt right now here in the Philippines, and I can't wait to see
The Deathly Hallows Part 1
in cinemas. However, I decided that, since there are only two films left in the best movie franchise ever, I will watch the first six installments first before watching the latest one in theaters. This is to refresh my memory and drench my mind in HP glory.
Yes, I'm gonna try to engage in a Harry Potter movie marathon. Starting today. Ooh, I'm so excited! Let's see if I will make it up to the sixth film, which is my favorite. But first, I'm gonna share some trivia, things that you probably didn't know about the book series and its author. Plus, some photos that reflect how much the cast has evolved since 2001.


Harry Potter, J. K. Rowling and Daniel Radcliffe all share the same birthday — July 31.
The secret code that Mr. Weasley types to get into the Ministry of Magic is 62442, which spells out "magic" on standard phones
Harry Potter looking genuinely like a boy (HP 1)
Hermione's name was almost "Hermione Puckle." It has a sour tone to it, doesn't it? J.K. Rowling thought so, too, and changed to something that suited the character better. Rowling has said that Hermione has a healthy dose of herself in there, as she was quite the know-it-all herself as a child. Hermione was originally going to have a younger sister, but Rowling never found the right moment to stick her into the books.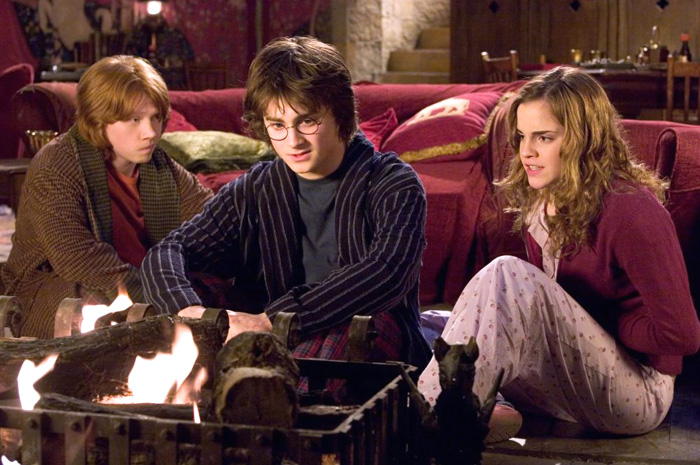 Toddlers no more (HP 4)
"K" is not a legal part of J.K. Rowling's real name. She changed it from Joanne Rowling to J.K. Rowling in order to appeal to her male readers.
Gilderoy Lockhart, the insufferably vain professor and celebrity from The Chamber of Secrets, was based on someone Rowling knows in real life. The rumor is that she based him on her ex-husband, but she has been quite adamant about denying that. "He used to tell whopping great fibs about his past life, all of them designed to demonstrate what a wonderful, brave and brilliant person he was. Perhaps he didn't really believe he was all that great and wanted to compensate, but I'm afraid I never dug that deep," she has said. "He's probably out there now telling everybody that he inspired the character of Albus Dumbledore. Or that he wrote the books and lets me take the credit out of kindness."
Tom Felton all grown-up
As you probably know, King's Cross station is where young wizards hop on the Hogwarts Express to get to school. What you might not know is that the station holds special meaning for J.K. Rowling: it's where her parents met. They were coincidentally both headed to Arbroath in Scotland when they met on the train. King's Cross was intentionally chosen as the gateway to Hogwarts in homage to Rowling's parents.
In author J.K. Rowling's mind, Dumbledore has always been gay and, in fact, had a crush on Grindelwald. This could explain why Dumbledore accepted Grindelwald's actions, even though he knew they were wrong.
The late Richard Harris (HP 1-2)
Michael Gambon (HP 3 onwards)
Sources:
http://www.mentalfloss.com/blogs/archives/28627
http://www.bupipedream.com/Articles/11-Things-You-Didnt-Know-About-Harry-Potter-/16562